please update your bookmarks!
click banner for the new site and new sections
THIS PAGE IS ACTIVE BUT WILL NOT BE UPDATED, PLEASE GO TO THE MAIN SITE. YOU WILL BE AUTOMATICALLY TAKEN THERE IN 5 SECONDS




---
Individual Fish Description Page.
This page will give a completely detailed profile of the selected fish, from A to Z. The profiled fish will be chosen randomly by Badman, and will come from the complete genre of tropical fish. I will try to up-date the profile on a monthly basis. If you have a specific fish you want profiled please vote for it in the favorite fish poll on the main index page. If you would like to write a profile just email me and let me know. Please add you comments about your personal experiences with any of the profiled fish by filling out the comment form at the bottom of the page. All comments will be added to the profile to help others out.
Click on the picture for the profile!
---
THIS MONTHS PROFILE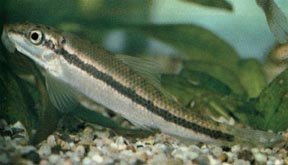 Photo from: "Atlas of Aquarium fish" by, TFH.

Gyrinocheilus aymonieri

Share your experience with this fish:
---

Navagation panel.

Email: badman@hotmail.com